Don't Waste Your Time and Money - Avoid This Service!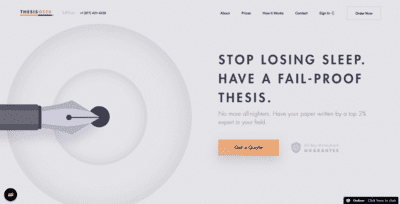 Minimal price per page: $5.85
Deadline: 3 hours
Discount: N\A
Refund policy: Yes
Updated: Apr 15, 2023
Our Top Rated Essay Services
Best service
SpeedyPaper
Best price
Writepaperfor.me
Best value
Essaypro
Company Overview
I'm not one for first impressions, but this company impressed me with subtle design and coherent website copy. But the more I learned about Thesis Geek, the more I realized it was all a front. While the site belongs to a UK-based Webdolphin LTD, there's no saying when it was created. The promises and claims are outrageous and mostly unfulfilled.
I would have skipped the service and avoided writing this Thesisgeek.com review if not for the 5-star SiteJabber rating. Sorry to say, I now have grounds to believe all those posts are fake. Care to find out why I'm so bitter? Read on!
Pros
Lots of positive Thesis Geek reviews with a 5-star SiteJabber rating;
Straightforward money-back policy terms;
Cons
The pricing is unclear and confusing;
Writing quality does not match the top 2% experts claims;
5% discount available after a $750 purchase;
No social media presence and no genuine reviews outside SiteJabber;
Prices and Discounts
The pricing page is entirely misleading. I got hooked with a promise of paying only $5.85 per 100 words (or around $60 for a 4-page essay). But once I filled in the details, my cost doubled. It turned out I'd missed "from" before the rate on the pricing page. In my defense, the print is tiny and gray-on-gray.
I wasn't too keen on paying almost a hundred bucks for a short piece, so I searched for a Thesisgeek.com discount code. I found no offers for first-time customers but got a promise of a loyalty discount. To get 5% off, I had to earn 750 points, equal to spending $750. That's eight 4-page essays! Thesis Geek is generous enough to offer a 15% discount, but it only becomes available after you spend $3,000. There's no chance I'll ever get to that point.
Services Quality
With prices so high and discounts so low, the writing quality must be glorious, right? Let's just say my Thesis Geek review would've been much less caustic if I'd gotten a good paper. But let's start at the beginning.
First, I had to give up my email and phone number to learn the price. That's one of my biggest pet peeves, but I let it slide. Next, they wanted me to pay around 30% extra for the "best expert in my field". Why would I spend $30 more if they only hire top 2% talent?
It turns out, their top talent cannot handle a simple topic like "Is leadership an innate or acquired personality trait?" Instead of a 4-page argumentative piece, I got a short rant that didn't even cover the required word count. The writer failed to present both sides of the argument, and their reasoning was limited to personal anecdotes and subjective claims. Despite my request to include five sources, the writer only used two, and they were random blog posts instead of scholarly articles.
TL;DR: The paper I got was among the biggest disappointments I've had in a while.
Online Reputation
SiteJabber
Thesisgeek.com reviews on SiteJabber convinced me to use the service. A 5-star rating based on 60 reviews is no joke. I wish I'd paid closer attention to those posts. For one, most are by people with a single review and zero helpful votes on their profiles, which always seems suspicious. For another, the posts are all the same length and written in a very similar style. Even if you believe they are all true, it's statistically improbable for a company to have zero neutral or negative reviews. On the bright side, Kelly M., Thesis Geek rep, was nice enough to thank everyone for leaving a positive review.
Trustpilot
Thesis Geek no longer has a Trustpilot page. The writing service was deemed a bad fit, like many similar sites. I could not access old reviews, good or bad ones, but Sitejabber lists the previous rating at 4.8 stars.
Reddit
The sheer lack of genuine Thesisgeek.com Reddit reviews should have warned me off this service, but I was dazzled by a 5-star rating and nice web design. I barely found a single mention of the company on Reddit, which makes me question how long it has been around. Established companies usually have Reddit presence, even if it's full of promo posts and negative reviews.
Other Review Websites
I couldn't find a single positive review across independent platforms, further cementing my realization that the SiteJabber profile was doctored. ScamFighter, Top Writers Reviews, Best Writers Online, Assignment Review, and Top Writing Reviews all have the same complaints as me: extreme prices, poor quality, inefficient customer support, and more. I should have paid better attention to feedback before wasting $100.
Social media activity
Facebook
I was hoping to find genuine ThesisGeek reviews on Facebook, but I came up empty. The site holds no social media links, and my search didn't return any results. I guess the company couldn't be bothered to develop an online presence outside the website.
Twitter
Thesis Geek doesn't have a Twitter account either. And I couldn't find any mention of the service. So it's either very new, extremely unpopular, or super discreet.
Youtube
There's no Youtube channel to discuss. But I've found a single poorly-made video dated five years ago listing all the benefits of Thesis Geek. The URL in the video is the same, though the design is vastly different, so I'm not even sure it's the same website.
Customer Support
I don't have much to say about customer support in this ThesisGeek review. There's no live chat, so I had to use email to get answers and file complaints. As you can imagine, it took me several hours to get a response every time, so the whole process was drawn-out and awkward. I was especially annoyed by stock answers that had nothing to do with my situation. For example, they asked me to provide a plag report after I complained about unfulfilled requirements. And when I tried calling, I could never reach a support agent.
Guarantees
The money-back terms seemed honest and clear to me. I could get 10% back for formatting errors, up to 30% for grammar mistakes, and even more, if I'd caught plagiarism of unmet requirements. Unfortunately, I had no luck proving my claims to the support team. At the time of writing, I'm still in the middle of my email negotiations with no end in sight. I doubt I'll get even half of my money back. And I'm especially peeved about the time I've wasted on this site.
Conclusion
This Thesisgeek.com review did not turn out the way I'd expected. But I won't sugarcoat overpriced writing, falsely advertised experts, non-existent customer support, and stingy discounts. I wasted $100 on an unusable essay a high-schooler could have done better than the top 2% experts from Thesis Geek. If you value your time and money, steer clear. Otherwise, don't say I didn't warn you.
Our Top Rated Essay Services
Best service
SpeedyPaper
Best price
Writepaperfor.me
Best value
Essaypro
Frequently Asked Questions
You ask, I answer
| | |
| --- | --- |
| Is Thesisgeek.com legit? | According to the Terms and Conditions, the website belongs to a UK-based Webdolphin LTD, a company running half a dozen essay mills of varying writing quality. |
| Is Thesisgeek.com reliable? | They can deliver orders on time, but the writing quality is subpar, while the refund terms seem impossible to fulfill. I would not trust them with another essay, let alone a thesis. |
| Is Thesisgeek.com a scam? | I'm tempted to call them frauds because the service is ridiculously overpriced. They make empty promises you shouldn't trust. |
| Is Thesisgeek.com cheating? | I'm pretty sure they lie when they promise us top 2% talent, their money-back clauses are a sham, and their reviews are suspiciously positive. I call that cheating. |
Write a review
Your email address will not be published. Required fields are marked *