Don't Waste Your Time and Money - Avoid This Service!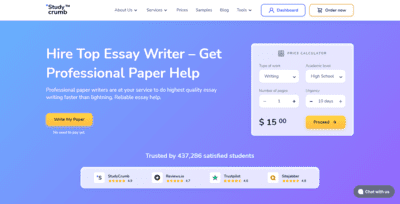 Minimal price per page: $15
Deadline: 3 hours
Discount: N/A
Refund policy: Yes
Updated: Apr 14, 2023
Our Top Rated Essay Services
Best service
SpeedyPaper
Best price
Writepaperfor.me
Best value
Essaypro
Company Overview
I'll say it up front: I was wrong about this company. It made a deceivingly good impression on me from the start, and at times I was willing to give it the benefit of the doubt. But in the end, it's not a writing service I'd use again or recommend to anyone. The company behind the website is Crumb4life LTD, based in Tallinn, Estonia. The country is notorious for accommodating hundreds of businesses from Eastern Europe that hide under the pretense of being founded in the EU. It means the company isn't fully staffed by native English speakers, which translates into poor writing, as you'll learn from my Studycrumb.com review. And while the company is generous enough with first-time clients and regulars who refer their friends, their writers fail to live up to the expectations, and the refund clauses are nearly unusable.
Pros
A StudyCrumb discount code for 15% off first order;
Cons
No StudyCrumb Reddit reviews, promo comments only;
Excessive rates start at $15 per page;
Non-ENL writers unwilling to follow instructions;
Little to no chance of getting a refund;
Prices and Discounts
I would have been much more lenient in this StudyCrumb review had the prices been less steep. The lowest rate for high-schoolers is $15, while college and university students have to pay $17 to $20 per page, and that's with 10-day deadlines. The shorter the deadline, the higher the prices and the less chance of getting anything good for your money.
On the bright side, the company promised me a 5% discount with my first order but did not share a coupon, so I went asking about it. And a helpful support agent gave me a Studycrumb.com promo code for 15% off for my trouble. So the price went down from $95 to around $80 for my 5-page essay on a 6-day deadline.
Services Quality
Since I didn't find any Studycrumb.com reviews and the only Studycrumb.com Reddit entries were company posts, I had to rely on samples to gauge the writing quality. It was good enough to convince me to give the company a try. Luckily, the order process was fast and painless, with all the standard fields for paper length, deadline, citation style, and the number of sources.
I can't say the writer messed up my paper, but it certainly wasn't usable. Let me explain. My topic was "Is leadership an innate or acquired personality trait?" but the writer focused on the trait theory to support the inborn nature of leadership qualities and ignored all other theories that provide evidence of the alternative position. As a result, the essay transformed from an argumentative piece into an informative paper akin to a Wikipedia article. And while the writing was mostly good, the piece was off-topic, so I couldn't submit it or even rework it enough for it to be submissible in my Business and Management class.
Customer Support
Even the highest point of my StudyCrumb review comes with an asterisk. The support agents I chatted with were all equally friendly and helpful. As I've mentioned, they shared an extra-generous discount code with me and answered a few of my questions before I placed the order. At the same time, every person I talked to was incredibly pushy, doing everything in their power to steer me towards payment. While I realize that's a part of their job description, I would appreciate being left alone to come to a decision without constant pressure. Besides, there's no way to disconnect the live chat, so I continued to receive messages even after I was done with the conversation. It was all very annoying.
Guarantees
I wish I could find any reliable StudyCrumb reviews online to learn the truth of the refund policy. As it is, I have only my own experience to go on. When I requested my money back, the support manager convinced me to get a revision, and after that failed to improve the paper, they claimed I was no longer liable to a full refund. Moreover, they claimed the writer fulfilled my instructions, which were too vague in the first place, so I couldn't complain about the quality.
I'm pretty sure you could get a full refund if you provide a Turnitin report to prove plagiarism, but you'll be in too much trouble, in that case, to worry about getting your money back.
Conclusion
I wasn't sure how this Studycrumb.com review would turn out. My experience started out good but quickly deteriorated, and in the end, I'm out $80 and a week, and the paper I got is nowhere close to what I wanted. No promo code is worth wasting my time and money with this company again, and I recommend you steer clear, too.
Our Top Rated Essay Services
Best service
SpeedyPaper
Best price
Writepaperfor.me
Best value
Essaypro
Frequently Asked Questions
You ask, I answer
| | |
| --- | --- |
| Is Studycrumb.com legit? | The website belongs to Crumb4life LTD, a Tallinn-based company, which can mean a staff full of non-ENL writers and support agents. Considering their reluctance in advertising these facts, I would not call this writing service 100% legit. |
| Is Studycrumb.com reliable? | They can deliver papers on time, but their writers are prone to taking liberties with the instructions. So unless you're willing to waste your time hand-holding the writer every step of the way, you shouldn't rely on them to deliver an essay you can submit for grading. |
| Is Studycrumb.com scam? | Not really, even if their support agents are super-pushy and their writers don't follow paper instructions. This company does not deliver good value for money, but it's not an outright fraud. |
| Is Studycrumb.com cheating? | They do cut some corners when writing papers, and you need to be ready for revisions or complete rewrites on your own time. I wouldn't call them cheaters, but they definitely get the better end of the deal. |
Write a review
Your email address will not be published. Required fields are marked *