Don't Waste Your Time and Money - Avoid This Service!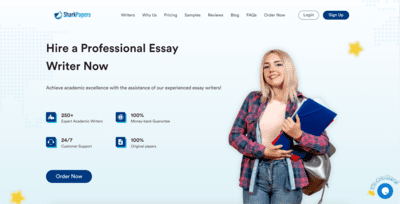 Minimal price per page: $14.03
Deadline: 12 hours
Discount: N/A
Refund policy: Yes
Updated: Apr 14, 2023
Our Top Rated Essay Services
Best service
SpeedyPaper
Best price
Writepaperfor.me
Best value
Essaypro
Company Overview
Where do I even start this Sharkpapers.com review: with the horrid writing or the misleading refund guarantees? I should begin by explaining I got completely turned around because I was sure I was placing an order with EssayShark. Instead, I got SharkPapers, an essay mill run by a UAE-based Skyscrapers LLC. While this might seem like a useless tidbit of information, it means that any disputes you have with the company fall under UAE laws. Moreover, it explains the weird pricing, as all payments are converted to AED. Besides, the company's registration address makes me question the origins and qualifications of the writers, as the paper I got was clearly not written by a native English speaker. But I'm getting ahead of myself. Let's start at the beginning.
Pros
Service guarantee - pay half upfront;
Direct contact with the writer;
Cons
Bogus SharkPapers discount code for 50% off;
A UAE-based company without a pool of ENL writers;
Conflicting feedback and zero SharkPapers Reddit reviews;
Awkward word choice and poor research skills;
Prices and Discounts
The rates start as low as $14.03 for high schoolers and $18.59 for college students. The company tried very hard to convince me that their actual rates are $28.06 and $37.18, and the halved prices were just a result of a very generous Sharkpapers.com promo code. But I've tried visiting the website from different devices and browsers, and the special deal always starts counting down from a random number of hours. So it seems like just a cheap marketing trick to push me into placing the order before the time runs out. It's an effective tactic, even if it's super underhanded.
The one advantage to the pricing I can't ignore in my Sharkpapers.com review is the Service Guarantee feature. It allows you to cover half the price upfront and transfer the remaining sum after receiving the paper. Still, I wonder if they have some way of automatically charging your credit card even if you are not happy with the quality of the piece you receive.
I ordered a 4-page essay on a 7-day deadline and paid around $82 thanks to a 50% "discount".
Services Quality
I wanted a 4-page argumentative essay titled "Is leadership an innate or acquired personality trait?" Creating an account and placing the order didn't take much time, as the order form is pretty standard. The only weird thing was the 'number of sources' field that wanted me to specify the types of references to use. I'd think experienced academic writers could distinguish good sources from bad.
After a week of waiting, I received my paper only a couple of hours before the deadline. And suddenly, I realized where all those negative Sharkpapers.com reviews came from. Awkward writing and weak research were two of the biggest issues with the paper I got. The writer was not a native English speaker, as some sentences made no sense and others were entirely incomprehensible. Besides, the writer did not bother looking beyond Wikipedia, as most of the essay was a shoddy rewrite of the "Leadership" entry.
I wonder why Sharkpapers.com Reddit reputation is still non-existent. I believe dozens of students are equally disappointed in this service.
Customer Support
The one good thing about my SharkPapers review is probably the support agents' performance. Sure, they were super pushy and used stock phrases to answer my pointed questions. Still, they remained approachable and professional, which is a step up from the writer's weak performance. The only problem I had with the support team was their reluctance to speed up the dispute settlement after I requested a refund. I realize they are not the decision-makers, but I'd still appreciate fast and honest answers about my chances of getting my money back.
Guarantees
At first glance, the refund clauses look reasonable enough. For example, you need to provide a Turnitin report to prove plagiarism. However, the company doesn't accept low grades as evidence of low writing quality, which leaves you no other avenues to support your claim. The most annoying is the promise of a partial refund for late delivery. Suppose you order a paper due in 24 hours, but the company delivers it in a week when it's useless for you. Instead of giving all your money back, they will compensate you with a small sum. I doubt that will make you feel better or improve your grade.
BTW, I didn't find any SharkPapers reviews claiming successful refund requests. And my claim is still under consideration at this time.
Conclusion
Do you feel like I'm being too harsh in this SharkPapers review? You may be right. After all, I fell for a marketing shtick of a sketchy UAE-based company that employs ESL writers under the guise of academic professionals. And despite their guarantees, there's no way to get your money back. If you're okay with all this, go ahead and waste your money. Otherwise, skip this service.
Our Top Rated Essay Services
Best service
SpeedyPaper
Best price
Writepaperfor.me
Best value
Essaypro
Frequently Asked Questions
You ask, I answer
| | |
| --- | --- |
| Is Sharkpapers.com legit? | The company name is a clear rip-off of the super-popular EssayShark. Besides, the SKYSCRAPERS LLC behind this website is based in the UAE. So this essay mill isn't legit on both counts. |
| Is Sharkpapers.com reliable? | Their writers aren't all native English speakers, and their money-back clauses mean you won't get a full refund if they are a day or a week late delivering your order. That's not what I call a reliable writing service. |
| Is Sharkpapers.com scam? | The company doesn't steal your money outright, but its services are outrageously overpriced, even with a fictional -50% discount. It does seem like a fraud. |
| Is Sharkpapers.com cheating? | They cheat you out of your money using clever discount countdowns and partial payments. But once you're hooked, they squeeze you dry and make you feel like a fool for trusting them. I sure do. |
Write a review
Your email address will not be published. Required fields are marked *