Don't Waste Your Time and Money - Avoid This Service!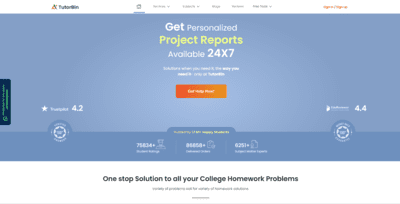 Minimal price per page: $10
Deadline: 6 hours
Discount: N\A
Refund policy: Yes
Updated: Apr 15, 2023
Our Top Rated Essay Services
Best service
SpeedyPaper
Best price
Writepaperfor.me
Best value
Essaypro
Company Overview
At first glance, Tutor Bin seemed a respectable academic support service. So why would they use a phone line starting in +91 (India)? Why were there no prices? And why did no one bother to spell-check the website copy? The questions kept piling up, and I knew I needed to get to the bottom of this before I made my recommendation. So read on to find out what hides behind the pretty facade, and you'll hurry to block this site, as I did.
Pros
Affordable rates and generous first-order discounts;
Impressive referral program with lifetime commissions;
Cons
Many TutorBin reviews complain about the lack of professionalism;
Non-ENL writers with poor command of English;
Overly friendly and pushy support agents;
Unclear refund and revision terms;
Prices and Discounts
After wasting a couple of days trying to make sense of this service, I still have no idea how their pricing works. I signed up for an account and chatted with a support agent for a while to settle the order details. After learning about my budget of $60, they offered to write my essay for $55 and add an explanatory video for $5.5. I wonder why I'd need an explanation for an essay, so I assume they didn't pay much attention to my order.
Besides, I'm not sure the price I got accounted for a Tutorbin.com discount code. I found a couple of options. You get 20% off your first order via the website, and if you download the mobile app and sign up, you get a $20 bonus. The service also runs a suspiciously generous referral program that promises a 30% commission for your affiliates' first orders and a 10% lifetime commission for all consecutive orders. These terms are super generous, but they make me think of a pyramid scheme.
Services Quality
Call me paranoid, but I hate giving out my contact info to random websites before deciding if I want to use their services. Yet TutorBin would not even give me an estimate before I shared my email and phone number. And I had to wait hours for the system to deliver an OTP. As you can probably tell, I didn't enjoy the order process one bit.
But the main reason my Tutorbin.com review is so unfavorable is the writing quality or lack thereof. All I needed was a well-structured essay answering the question, "Is leadership an innate or acquired personality trait?" The writer ignored my request to include at least five sources and went on a rant about their personal experiences with leadership. Instead of an objective, argumentative piece, I got a personal narrative essay. Besides, like the support team, the writer wasn't too fond of spell checks. And their word choice and phrasing made it obvious the writer was not a native English speaker. The bottom line is the paper I got was unusable if cheap.
Online Reputation
SiteJabber
I only found five Tutorbin.com reviews on SiteJabber, all of them 5-star ones and posted within the last two months. However, some of them did not seem genuine. Unfortunately, I have nothing but a gut feeling to convince you those posts are doctored.
Trustpilot
TutorBin isn't too popular on Trustpilot, either. The company doesn't instill much confidence with a 4.1-star rating and a healthy dose of negative posts. The bad reviews claim low grades, late delivery, and other unpleasantness. However, I was mainly concerned by the TutorBin rep's responses that claimed the company has "already taken action on this ground at the best and groomed our service". Does it seem like something a native English speaker would say?
Reddit
If you look for Tutorbin.com Reddit reviews, you won't find any. There are barely a couple of asks and zero meaningful responses. And while the company created a Reddit account in June 2022, it's not too active. On the upside, I didn't find any negative reviews either, which made me think the company wasn't all that old.
Other Review Websites
One of the reasons for writing this Tutorbin.com review was a surprising lack of feedback across independent blogs. All I could find were a couple of dissatisfied rants by Essay Reviews and Rank My Service. Most of the complaints mirror mine, including unsatisfactory quality and support experience.
Social Media Activity
Facebook
The Facebook page is live and kicking, with over 3,000 followers. The helpful posts and reviews are mixed with memes and funny videos. However, the company rating is only 3.3 stars based on sixteen Tutor Bin reviews. Most unhappy clients complain about unprofessional tutors, missed deadlines, and an unresponsive support team. These complaints do not paint a pretty picture.
Twitter
Tutor Bin's Twitter has 55 followers. However, unlike the Facebook profile, the Twitter account has been abandoned since spring 2020. After only two years, the company stopped tweeting after a batch of relatively helpful posts on Covid-era education.
Youtube
The Tutor Bin Youtube channel is an eclectic mix of elaborate science and math tutorials, short how-to videos, and a handful of student reviews. The company tried to create helpful content, but there are still barely 500 subscribers. After watching a couple of videos, my strongest impression was that the company did not even try to hide that it's based in India.
Customer Support
Even if I wanted to, I couldn't avoid talking to the support team when working on this TutorBin review. They got in touch the moment I submitted a query and pestered me with questions until I gave in and confirmed the order. Although the agent was quick to respond, their mannerism was too forward and disrespectful for my liking, and they couldn't be bothered to spell check their messages. I don't like strangers calling me "dear" for no reason. To their credit, once I mentioned I did not appreciate the informal manner, the support agent switched to a more professional mode. Still, the whole experience left me feeling wary and uncomfortable.
Oh, and the message notification is super annoying, so I suggest turning off the tab sound when you log into your account.
Guarantees
The website boldly proclaims a money-back guarantee, but that's a lie. There's nothing in the Refund Policy of Terms and Conditions about getting your money back. The former is barely four lines long with vague phrases like "there should be an agreement between the Website administrator and the user" to initiate a refund. I guess if the company does not agree, you cannot even ask for a refund, let alone get it. Besides, I've seen a few reviews complaining about the company's unwillingness to refund unhappy customers. I bet the vague refund policy is a great help in that regard.
Conclusion
Unless you're an international student from India, I do not recommend using this service. I did not go out of my way to make this Tutor Bin review so negative. Unfortunately, my initial troubles signing up were exacerbated by unprofessional support agents, unclear refund terms, and an essay so bad that I had to scrap it and start from scratch. Do not let the generous discounts and referral commission promises lure you in. You will regret it!
Our Top Rated Essay Services
Best service
SpeedyPaper
Best price
Writepaperfor.me
Best value
Essaypro
Frequently Asked Questions
You ask, I answer
| | |
| --- | --- |
| Is Tutorbin.com legit? | Not really. TutorBin is "registered as a Student's homework helping website," according to the support managers, but there's no detailed info about the company name, registration, or address. However, their Google Business account places the company in Gurugram, Haryana, India. |
| Is Tutorbin.com reliable? | I am not sure about the tutoring services, but their academic writers are a mess. They can't follow instructions or meet deadlines. |
| Is Tutorbin.com a scam? | They won't steal your money outright, but there's a good chance it will go to waste. Besides, their referral program makes the company look like a pyramid scheme. |
| Is Tutorbin.com cheating? | It's more like distraction and disinformation. They don't hide the fact the company is based in India and relies on non-ENL tutors, but they try to keep your attention off that fact. |
Write a review
Your email address will not be published. Required fields are marked *